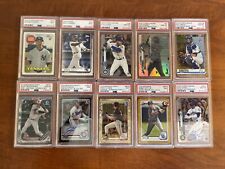 Price: 8.50 USD
Card Details:
MLB BASEBALL HOT PACKS-THE BEST- 1/1- AUTOS-MEM-5 ROOKIES-15 CARDS-SUPERFRACTOR




Topps MLB Complete Baseball Trading Card Set (2019).
THE BEST HOT PACKS ON EBAY
OUR FOOTBALL & BASKETBALL LISTINGS ARE SO POPULAR WE HAD TO MAKE A BASEBALL ONE!
I am doing this hot pack as I am going onto college, and need a fast and easy way to sell off the majority of my MLB collection.
ALL PROFITS GO TO MY COLLEGE FUND!!
MY FIRST NOTE…
IF YOU ARE NOT SATISFIED YOU WILL GET YOUR MONEY BACK!!
*I cannot take back the hot packs if you are not satisfied (I.E. not hitting a "Big" card, etc.) I am always more than happy to work something out though…I LIKE MY POSITIVE FEEDBACK!*
What do I get for my $9.99?
You will Receive:
-Your Money Back in card Value!
-At Least 15 Sports Cards of Top MLB Players
– At LEAST 5 of the cards will be Rookies from past years (2020-21 Mainly)
–ALL CARDS WILL BE SLEEVED
– MOST cards will be from past years (2019-2021)
-A 1 in 3 chance at Autographs, Memorabilia, RPA, or Graded Cards
-Numbered Rookies and Base cards are inserted RANDOMLY!!
LOOK FOR WANDER FRANCO, MIKE TROUT, FERNANDO TATIS JR., VLADIMIR GUERRERO JR., LUIS ROBERT, AARON JUDGE, BO BICHETTE, MOOKIE BETTS, SHOHEI OHTANI, JUAN SOTO, RONALD ACUNA JR, ALBERT PUJOLS, CLAYTON KERSHAW, AND MORE HOFERS AND OTHER TOP PLAYERS!
CHECK OUT MY FEEDBACK FROM THE FOOTBALL & BASKETBALL HOT PACKS!
–Great shipment of cards! Cards that are worthy of being added to a collection.
-It was my very first purchase outside from buying retail packs from stores. Really didn't know what to expect and was nervous until I open them. Best first experience ever. They arrived early and were exactly what was described. Hopefully I will continue with these positive experiences.
-The cards are great, tons of rookies! My son & I recently started collecting together, with a limited budget buying mystery packs gives us variety. Look for another order from me next payday! Thanks man & merry Christmas
JUST TO MENTION A FEW…
GET THE BEST HOT PACKS ON EBAY!