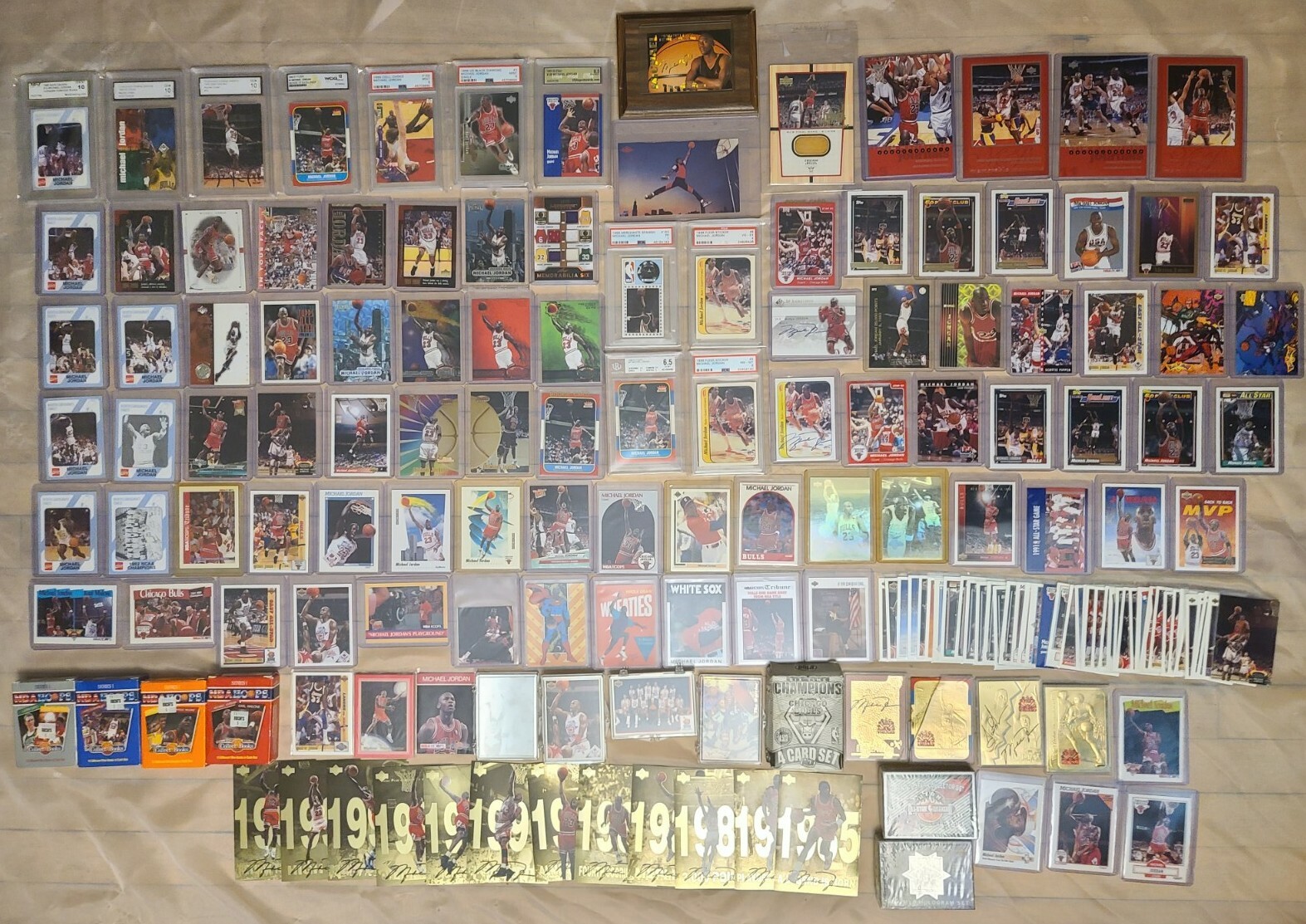 Price: 78,000.00 USD
Card Details:
MJ COLLECTION 1986 FLEER MICHAEL JORDAN ROOKIE CARDS BGS PSA PLUS MUCH MORE READ




A COLLECTION WORTHY OF THE GREATEST ATHLETE OF ALL TIME
🔥THE ULTIMATE MICHAEL JORDAN COLLECTION- ROOKIES, ULTRA RARES, INSERTS+ MORE!🔥. Condition is Like New.
This is an amazing investment opportunity or must have for any serious collector, or the greatest gift a collector could recieve! There are individual cards in this collection that have sold for more alone by themselves! The bulk of these cards were collected in the 80s, 90s, and 2000s, and have been sitting in storage for years, with a few more that were acquired more recently. You will recieve everything in the photographs plus a little more that is not shown. This collection contains a lot of extremely rare and valuable cards, with multiple rookies, limited edition cards, inserts, and numbered rare cards. There are several rookies and even one certified rookie card with a population of less than 100 in the world! This is also one of his first cards ever made and it comes from Spain, and it is certified and ultra rare! Not all of these cards are certified or authenticated, but they have been sitting for years and were owned by a serious collector, so certain cards may possibly not be originals. I say this also for the autographed cards; I know the Fleer sticker autograph is a print, I do not know for certain with regards to the Star one. I cannot validate the signatures but they appear good and the previous owner/collector did meet the GOAT Michael Jordan in Connecticut years ago at Mohegan Sun. There are also complete mini sets of cards including other players as well, such as hologram sets and all-star sets, all including Michael Jordan. There is a card with authentic game used jersey pieces from Michael Jordan, Kobe Bryant, Lebron James, Julius Erving, Magic Johnson, and Larry Bird. There are only 25 of these cards that have ever been made in the world, but the one in this collection is truly unique because it is numbered 23, which is Michael Jordan's number, making it a one of a kind piece! There is even a super rare FF1 commemorative card with a main piece from the hardwood floor where Michael Jordan played his final game in a Bulls uniform winning his last championship from the Utah Jazz court! This very floor was featured in The Last Dance! Own a piece of history that is also a great investment! There are the iconic 1986 Fleer Michael Jordan Rookies, one is the #57 with 2 subgrades of 9! There are 2 PSA graded 1986 Fleer rookie stickers as well, one is undergraded at 8 and is sharp and bright as can be with zero wax! Again, I cannot gurantee the authenticity of anything aside from what has already been authenticated or what I know for certain was pulled by myself or relative personally decades ago. For instance, we know for cerrain the emerald and red PMG's are prints and not original. This goes for everything listed below that is not slabbed up with certified numbered authentication, this does NOT mean that most of the cards aren't original. This collection will only go up in value and it would cost much more to acquire separately and take a tremendous amount of effort and time. Again, most of the cards were hand-picked gems but I cannot personally guarantee the authenticity of each individual card that is not already graded. Returns will not be accepted. Feel free to reach out with any questions or for more photographs.
As an added bonus you will also recieve the Special Edition 1991 issue of Sports Illustrated with Michael Jordan honored as 'Sportsman of the Year'. There are rougly 400 cards in this collection! Please see an itemized list below and please view our other cool listings! Thank you! This lot will be delivered to you in person and with witnesses, THERE IS NO OTHER WAY AROUND THIS! We will come to you and deliver this wherever you may be in the world. Please only purchase if you intend to pay and have the funds! Returns will not be accepted on this lot! A portion of this sale will also go to benefit Paradise 4 Kids charity!
* WE RESERVE THE RIGHT TO REFUSE SALE TO ANY BUYERS WITH LITTLE TO NO HISTORY, NEGATIVE HISTORY, OR BUYERS THAT DO NOT COMMUNICATE *
—–‐————————————————————————————–
NOTE: IF YOU PURCHASE THIS LOT BY March 28, 2022, AT THE LISTING PRICE YOU MAY CHOOSE ONE OTHER SPORTS CARD, MEMORABILIA ITEM, OR ART PIECE FROM OUR EBAY STORE OF YOUR CHOICE FOR ABSOLUTELY FREE!!! THIS EVEN INCLUDES THE LISTING OF THE VALUABLE HAND CRAFTED PRECIOUS METAL ICON, THE BARRY BONDS ROOKIE, OR THE LOT OF SHAQUILE O'NEAL ROOKIES WITH BONUS CARDS AND AUTOGRAPHED 8×10 PHOTO WITH CERTIFICATE OF AUTHENTICITY (EXCLUDED FROM THIS OFFER IS THE 1/12 MICHAEL JORDAN KOBE BRYANT LEBRON JAMES MAGIC JOHNSON LARRY BIRD DR J MEMORABILIA CARD, THE KOBE BRYANT RAREST ROOKIE LOT, AND THE DAVID ROBINSON CARD COLLECTION AND DAVID ROBINSON PATCH AUTO CARD)!  Please message us directly with any questions or if something else is of interest to you. We may make an exception.
‐——————————————————————————————-
1993-94 Sports Stars USA Michael Jordan Special Retirement Card; 1/15,000
2019 Leaf Ultimate Memorabilia Six Card #23/25; Authentic game used jersey pieces from Michael Jordan, Kobe Bryant, Lebron James, Julius Erving, Magic Johnson, and Larry Bird
2000 Upper Deck Michael Jordan Limited Edition FF1 "Final Floor" Card; Authentic piece of basketball court flooring from MJ's final game in a Chicago Bull's uniform on June 14, 1998
1997 Upper Deck Michael Jordan 'the Jordan CHAMPIONSHIP journals" 1996 NBA EASTERN CONFERENCE FINALS Card
1997 Upper Deck Michael Jordan 'the Jordan CHAMPIONSHIP journals" 1993 NBA EASTERN CONFERENCE FINALS
1997 Upper Deck Michael Jordan 'memorable moments" 6/2/1993
1997 Upper Deck Michael Jordan 'memorable moments" 6/5/1991
1998 Upper Deck Black Diamond Michael Jordan #3; PSA 9 MINT; 45709694
1995 COLLECTOR'S CHOICE Michael Jordan #169; PSA 9 MINT; 45709690
1986 Mérchante Michael Jordan #163; PSA 1; 46184149
1986 Fleer Sticker Michael Jordan #8; PSA 4; 24925426
1986 Fleer Sticker Michael Jordan #8; PSA 8 NM-MT; 50404140
1986 Fleer Michael Jordan #57 BGS 6.5; Subgrades 9, 9, 5.5, 8.5; 0012585098
1991-92 Fleer Michael Jordan #29; USA 8.5; 50034166
1996 Fleer Metal Michael Jordan #11; PSA 9 MINT; 47385204
1985 Prism Jewel Michael Jordan Sticker
1996 Utra Michael Jordan #280; PSA 8 NM-MT; 47385269
1996 Fleer Michael Jordan #13; PSA 7; 47385279
1995 Skybox Premium Michael Jordan #278; PSA 8 NM-MT; 47385286
1995 Skybox Premium Michael Jordan #15, CAREER BLOCK TOTAL WRONG; PSA 6 EX-MT; 46878842
1998 Upper Deck MJx Michael Jordan #75; PGA GEM 10; 182640
1998 Upper Deck Choice Michael Jordan #199; PGA GEM 10; 182696
1989 North Carolina MICHAEL JORDAN Collegiate Collection Rookie #14; MG GEM MT 10; 75277783
1996-97 Fleer Michael Jordan Decade of Excellence; WCG GEM-MT 10; 63745935
1998 Skybox Michael Jordan Metal Universe #23
Michael Jordan WHEATIES "You Better Eat Your Wheaties" Card
Michael Jordan "Superman" Card
Michael Jordan "Reverse Slam" Photo Card
1985 Star Michael Jordan #101
1998 Skybox Michael Jordan Metal Universe #23
1985 Nike Promo Michael Jordan Rookie Card
1997 Red Skybox Precious Metal Gems Metal Universe Michael Jordan #23 *Reprint
1997 Green Skybox Precious Metal Gems Metal Universe Michael Jordan #23 *Reprint
1992 Upper Deck Michael Jordan #AW9 MVP Hologram Card
1991 Upper Deck Michael Jordan #AW1 Scoring Hologram Card
1989 NBA Hoops Michael Jordan #200
1991 Upper Deck Michael Jordan #SP1 Rookie Baseball Card
WHITE SOX OF Michael Jordan Chicago Bulls Basketball/Baseball Card
1986 Big Bang Cards Foil Michael Jordan
1993 Upper Deck Michael Jordan #SP2; Commemorative 20,000 Points; January 8, 1993
1992 NBA Hoops USA Basketball Team Michael Jordan Card
1991 NBA Hoops Michael Jordan League Leaders Scoring #306
1992 Skybox USA Basketball Michael Jordan #39
1992 Upper Deck Scoring Threats Michael Jordan #62
1991 NBA Hoops Chicago Bulls Michael Jordan NBA Champions #277
1992 Upper Deck Michael Jordan "You Can Read This" #22
1991 Skybox Michael Jordan #334; "Michael Brings Home the Trophy"
1991 Fleer ALL-STAR GAME Michael Jordan #233; "Enemies – A Love Story"
1990 NBA Hoops Michael Jordan #382; "Michael Jordan's Playground" Behind the Scenes
1991 NBA Hoops Tribune Michael Jordan #541; The 1991 NBA Finals Game 4
1991 Upper Deck Michael Jordan #75
1990 Skybox Michael Jordan #41
1992 Upper Deck Michael Jordan #67; "Back to Back MVP"
1992 Upper Deck Michael Jordan East All-Star #452
1992 Upper Deck Michael Jordan All-Star #48
1993 Topps Gold Michael Jordan All-Star 1st Team #101
1993 Upper Deck Michael Jordan #453; 1987, 1988 Two Time Champion "In Your Face"
1999 Upper Deck SP Authentic Michael Jordan #1
2000 Upper Deck Michael Jordan First Team Guard #71
1999 Upper Deck Michael Jordan #26; "The Championship Years"
1999 Upper Deck Michael Jordan The Jordan Era #JE15; "Athlete of the Century"
1999 Upper Deck Michael Jordan #14; "Rise to Greatness"
1992 Topps Michael Jordan #141
2004 Upper Deck SP Signatures Michael Jordan #MJ-A
1992 Topps Michael Jordan #3; Highlight
1991 NBA Hoops Michael Jordan MVP #30
1994 Upper Deck #23; Special "He's Back March 19, 1995"
1992-93 Fleer Michael Jordan #216
1993 Upper Deck Michael Jordan #23
1992 Topps Stadium Club Michael Jordan #1
1992 Topps Stadium Club Michael Jordan #1
1990 NBA Hoops Michael Jordan #65
1992-93 Fleer Ultra Michael Jordan #27
1993 Topps Michael Jordan #205; 50 Point Club
1990 Fleer Michael Jordan #26
1991 NBA Hoops Michael Jordan #317
1991 NBA Hoops Michael Jordan #253; All-Stars '91
1992 Topps Michael Jordan #115; All-Star
1992 Upper Deck Michael Jordan #44
1992 Skybox Michael Jordan #583
1991 Skybox USA Basketball Game Strategy Michael Jordan #39
1993 Skybox NBA Hoops Tribune Michael Jordan #TR1
1997 Skybox Metal Universe Michael Jordan Refractor #23
1992 Topps Gold Michael Jordan #141
1992 Topps Gold Michael Jordan #3
1992 Topps Gold Michael Jordan #205
1998 Topps Bowmans Best Michael Jordan #96
1998 Topps Bowmans Best Michael Jordan #60
1989 North Carolina MICHAEL JORDAN Collegiate Collection Rookie #13
1989 North Carolina MICHAEL JORDAN Collegiate Collection Rookie #15
1989 North Carolina MICHAEL JORDAN Collegiate Collection Rookie #16
1989 North Carolina MICHAEL JORDAN Collegiate Collection Rookie #17
1989 North Carolina MICHAEL JORDAN Collegiate Collection Rookie #18
1989 North Carolina MICHAEL JORDAN Collegiate Collection Rookie #65
1989 North Carolina MICHAEL JORDAN Collegiate Collection Rookie #200
1986 Fleer Michael Jordan #57
1986 Fleer Michael Jordan #8 signed
1985 Star Michael Jordan #101 Signed
1991 NBA Hoops Michael Jordan League Leaders Scoring #306
1991 NBA Hoops Michael Jordan MVP #30
1991 NBA Hoops Michael Jordan MVP #30
1991 Fleer Michael Jordan #29
1992 Topps Michael Jordan #141
1992 Topps Michael Jordan #141
1992 Topps Michael Jordan #141
1992 Topps Michael Jordan #3; Highlight
1992 Topps Michael Jordan #3; Highlight
1992 Topps Michael Jordan #115; All-Star
1992 Topps Michael Jordan #115; All-Star
1991 NBA Hoops Michael Jordan #253; All-Stars '91
1992 Upper Deck Michael Jordan #67; "Back to Back MVP"
1992 Upper Deck Michael Jordan "You Can Read This" #22
1992 Upper Deck Michael Jordan "You Can Read This" #22
1992 Upper Deck Michael Jordan "You Can Read This" #22
1992 Upper Deck Michael Jordan "You Can Read This" #22
1992 Upper Deck Michael Jordan "You Can Read This" #22
1992 Upper Deck Michael Jordan All-Star #48
1992 Upper Deck Michael Jordan All-Star #48
1992 Upper Deck Michael Jordan All-Star #48
1992 Upper Deck Michael Jordan All-Star #48
1991 NBA Hoops Michael Jordan #317
1993 Upper Deck Michael Jordan #34; "Magic Vs. Jordan"
1993 Upper Deck Michael Jordan #34; "Magic Vs. Jordan"
1993 Upper Deck Michael Jordan #34; "Magic Vs. Jordan"
1993 Upper Deck Michael Jordan #34; "Magic Vs. Jordan"
1993 Upper Deck Michael Jordan #34; "Magic Vs. Jordan"
1991 Upper Deck Michael Jordan #75
1991 Upper Deck Michael Jordan #75
1991 Upper Deck Michael Jordan #75
1993 Upper Deck Michael Jordan #23
1990 Fleer Michael Jordan #26
1993 Upper Deck Michael Jordan #506; "Agent 23"
1993 Upper Deck Michael Jordan #510; "Birdman &Agent 23"
1992 Upper Deck Michael Jordan #44
1992 Upper Deck Michael Jordan #44
1992 Upper Deck Michael Jordan #44
1993 Upper Deck Michael Jordan #69; East All-Star
1993 Upper Deck Michael Jordan #69; East All-Star
1993 Upper Deck Michael Jordan #69; East All-Star
1993 Upper Deck Michael Jordan #69; East All-Star
1993 Upper Deck Michael Jordan #69; East All-Star
1993 Upper Deck Michael Jordan #69; East All-Star
1991 NBA Hoops Chicago Bulls Michael Jordan NBA Champions #277
1992 NBA Hoops USA Basketball Team Michael Jordan Card
1998 Upper Deck Michael Jordan Signature Card #1 of 12
1998 Upper Deck Michael Jordan Signature Card #2 of 12
1998 Upper Deck Michael Jordan Signature Card #3 of 12
1998 Upper Deck Michael Jordan Signature Card #4 of 12
1998 Upper Deck Michael Jordan Signature Card #5 of 12
1998 Upper Deck Michael Jordan Signature Card #6 of 12
1998 Upper Deck Michael Jordan Signature Card #7 of 12
1998 Upper Deck Michael Jordan Signature Card #8 of 12
1998 Upper Deck Michael Jordan Signature Card #9 of 12
1998 Upper Deck Michael Jordan Signature Card #10 of 12
1998 Upper Deck Michael Jordan Signature Card #11 of 12
1998 Upper Deck Michael Jordan Signature Card #12 of 12
1998 Fleer Six Time Champion 23 Karat Gold Foil Sculptured Card Complete Set of 4 Cards Limited Edition Numbered 1402/4523
1992 Upper Deck Complete All-Star Set; 27 cards
1992 Upper Deck Complete All-Star Set; 25 cards
1993 Upper Deck Animation Complete Set; 5 cards
1993 Upper Deck Complete Hologram Set #AW1-AW9; 9 cards
1993 FACTORY SEALED Upper Deck NBA All-Star Collector Set; Unopened, 40 cards
1993 FACTORY SEALED Upper Deck NBA MVP Hologram Set; 36 cards
1990 NBA Hoops CollectABooks Michael Jordan and complete 4 box complete set; 48 cards
1992 Upper Deck "Vs." Complete Set; 5 cards
1991 USA Basketball Complete Team Set; 15 cards
1990 Limited Edition Artworks Complete Set 1/10,000; 10 Cards (2 MJ)