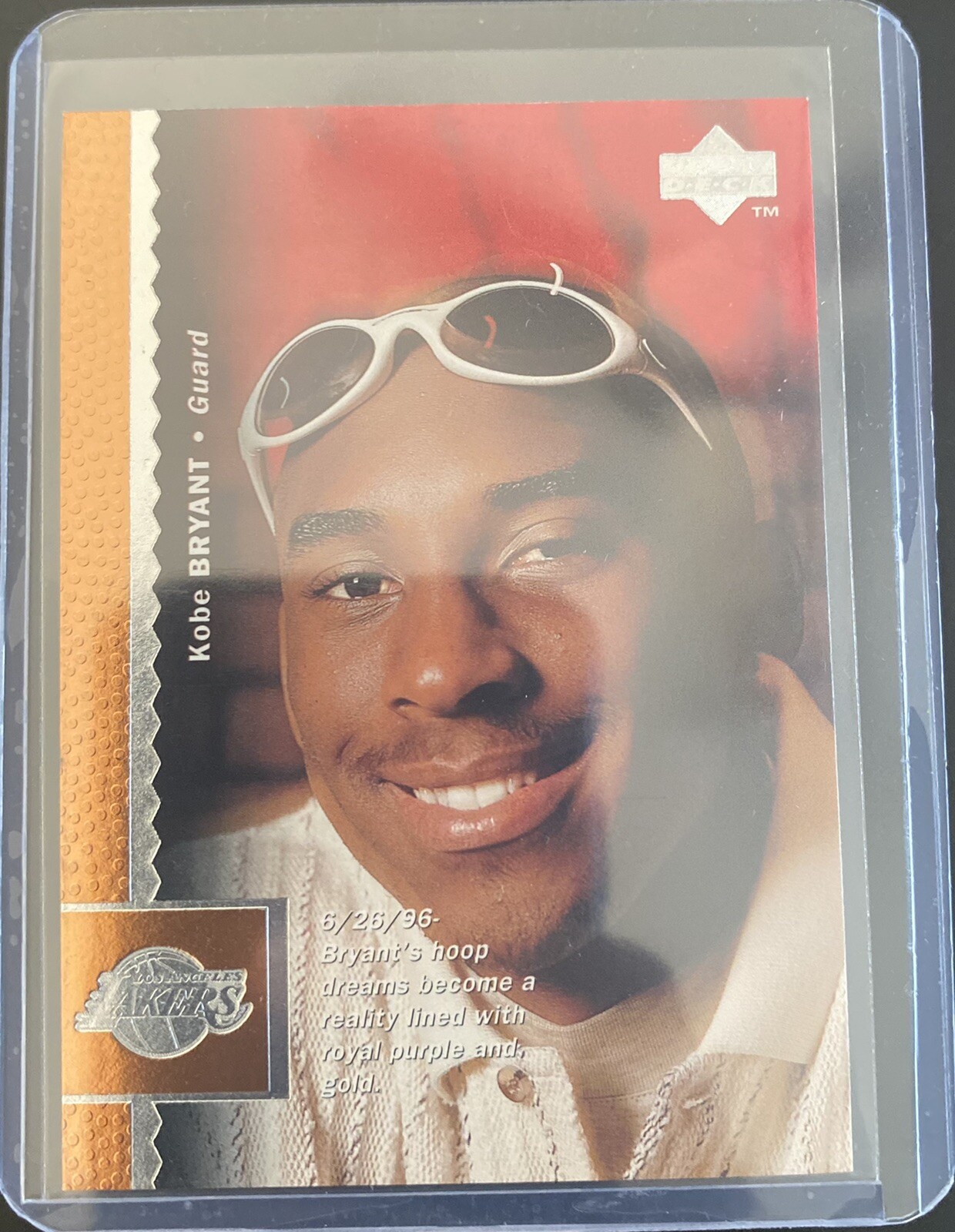 Price: 9,000.00 USD
Card Details:
KOBE BRYANT ROOKIE CARD COLLECTION




KOBE BRYANT ROOKIE CARD COLLECTION!!!
Own sports memorabilia of an all time legend!
Whether a Kobe Fan, a Laker Fan, or just a fan of basketball!!!
My own personal collection either through opening packs or purchased in and around 1996-1998.
Specs:
-Very good to Near Mint condition
-Cards have been looked at by local sports memorabilia stores in the Las Vegas area but all cards have NOT been sent in for individual grading
-Grading process has been slowed by months due to high volumes of cards being sent in-If you don't trust me, trust my ratings from being a long-time eBay seller of 100% satisfaction!!!
-Smoke free home
-All 1000% authentic non duplicates or non-authentics
-All placed in new-sleeves
-All placed in new casings
Card 1-upper deck 1996-1997 #58
Card 2-upper deck UD3 1996-1997 #43
Card 3-fleer 1996-1997 #203
Card 4-topped stadium club 1996-1997 R12
Card 5-fleer metal 1996-1997 #137
Card 6-skybox premium 1996-1997 #203
Card 7-upper deck 1996-1997 M129 w/Jermaine O'Neal & Kevin Garnett
Card 8-fleer ultra 1996-1997 #51
Card 9-skybox nba hoops 1996-1997 #281
Card 10-fleer ultra encore 1996-1997 #266
Card 11-skybox Z-Force 1996-1997 #142
Card 12-skybox premium 1996-1997 #55
-If you have ANY Q's or need pictures of the backsides of the cards please contact me and I'll do my best to accommodate-EBay only allows 12 total pictures on their platform.
-I am truly trying to sell as a "lot" not as singles. If you want a single card come with a serious offer or I will not respond.
-I am willing to listen to offers for the lot as well…please be serious or else I will not respond.
-Free shipping
-Super fair pricing considering card #12 has been listed for up to $80,000 UNRATED BY ITSELF on some listings!
-No returns accepted
Be well and stay blessed.