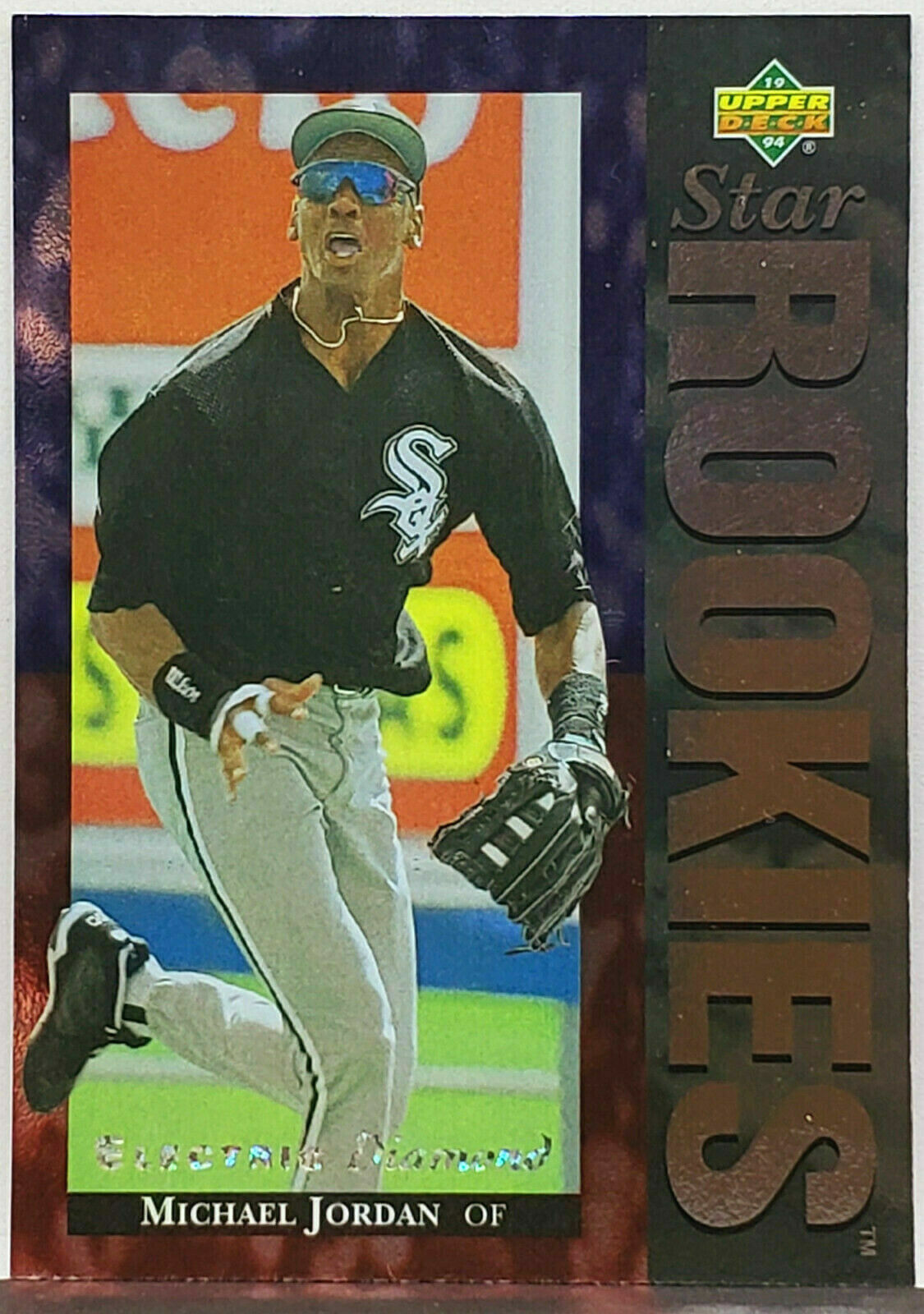 Price: 59.95 USD
Card Details:
HOT! 🔥 SP! MICHAEL JORDAN ROOKIE! RARE ELECTRIC DIAMOND 1994 UPPER DECK #19






HOT!! 🔥 SP! MICHAEL JORDAN ROOKIE
"ELECTRIC DIAMOND"
CARD DETAILS:
1994 UPPER DECK STAR ROOKIES #19
ELECTRIC DIAMOND SP VARIATION
MICHAEL JORDAN ROOKIE
BASEBALL CARD!
A SHARP FOIL CARD WITH THE SHORT PRINT (SP)
"ELECTRIC DIAMOND" LETTERS THAT
SPARKLE BRILLIANTLY!!
A VERY RARE & VERY HIGH-DEMAND MICHAEL JORDAN
ROOKIE CARD FROM HIS MLB BASEBALL CAREER!!
TEAM:
CHICAGO WHITE SOX (MLB BASEBALL),
CHICAGO BULLS (NBA BASKETBALL)
ABOUT:
MICHAEL JORDAN HAD A SEMI-PROMISING MLB CAREER,
WITH AN UNANTICIPATED MLB STRIKE NEAR THE
START, BUT, OVERALL, HE IS BEST KNOWN AS A
HOF NBA SUPERSTAR, AND CONSIDERED TO
BE THE GREATEST BASKETBALL PLAYER
IN THE HISTORY OF THE NBA!!
JORDAN IS AMONG THE TOP SCORERS IN THE GAME
OVER HIS NBA CAREER, AND OVER HIS CAREER,
HE AVERAGED OVER 30 POINTS PER GAME!!
AWESOME CARD AND TRULY AN AMAZING ADDITION
TO ANY SERIOUS CARD COLLECTION
(ALSO MAKES A GREAT GIFT!)
+++ FREE SHIPPING!! +++
+
++ ALL OFFERS ARE WELCOMED!! +++
Awesome Card!! 
Original Owner!! 
Smoke-Free Home!! 

Ships Secure… 
Ships Fast… 
AND… 
SHIPS FREE…!!! 
HOT!! SP ELECTRIC DIAMOND MICHAEL JORDAN ROOKIE!!
IF YOU COLLECT CARDS, WHEN THIS ONE SHOWS
UP FOR SALE, YOU HAVE TO JUST JUMP
ON IT! IF YOUR ARE A SERIOUS
COLLECTOR, THEN YOU KNOW
THIS IS A VERY HOT ITEM!!
About Us, Our Specialties, etc: 
We love to collect Baseball Cards and everything MLB. 
We love the hobby and love Collecting baseball & 
all sports cards. We are collectors just like you! 
We offer cards from all major card companies (Topps, Bowman, 
Donruss, Fleer, Panini, Pinnacle, Score, Upper Deck, SPX,  
Stadium Club, Flair, Finest, O-Pee-Chee, OPC & more).
We cover within these companies, the brand Base sets, as well
as Heritage, Archives, Update, traded, chrome, prospects, 
minis, foil, rainbow foil, lots, rookie, stars, HOF, select, 
hall of famers, megabox, refractors, parallels, RC, GU, 
game used, Jersey cards, sets, Autographs, other 
player autos (bats and balls), series, cases, 
boxes & packs (sometimes) & much more. 
Variations range from Base to Short-Print, SP, SSP, & all
kinds of Variations, Photo Variations, Errors, 
Gum-Stains, High-Numbers, & much more.
Many cards come from a Set Break(s).
Some of the cards are graded, ranging from Gem Mint, to
Mint, Near Mint (or NM), EX, VG, and below. The
grading is done by professional 3rd party
companies, such as PSA, BGS or BCCG
(Becketts), GMA, SGC, or PGA. 
As for Positions, we cover everyone equally: Pitchers, catchers,
outfielders, 1st Base, 2nd Base, 3rd Base, Shortstop, and
if you cannot find them, search by first base,
second base, third base, etc. 
Teams? We cover all of them. The most popular are the Yankees,
Mets, Dodgers, Marlins, Cubs, Reds, Red Sox, Royals, Braves,
White Sox, Twins, Brewers, Cardinals, Tigers & so forth, from
both the National League and the American League. 
Whether they are referred to as trading cards, & whether
they are from common players or from stars that win
the MVP or ROY awards or are voted as All-Stars,
these cards that come with Relics, Memorabilia,
or are just collectibles, limited or rare, bring 
you in and make you part of the games,
either in the Major Leagues or Minors. 
These are not toys anymore! 
We come alive during Spring Training, thrive during the
All-Star Game, and savor the Playoffs & World Series. 
 
But…..we collect/buy/sell all year round !! 
Enjoy this and our many other items we offer, and 
always enjoy FREE SHIPPING !!