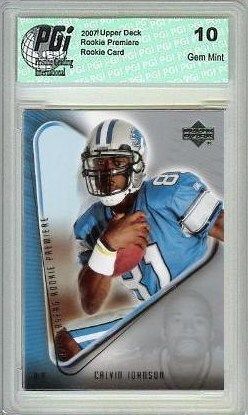 Price: 29.99 USD
Card Details:
CALVIN JOHNSON 2007 Upper Deck Rookie Premiere Card PGI 10




CALVIN JOHNSON 2007 Upper Deck Rookie Premiere Card PGI 10
Our Price: $29.99
2007 Upper Deck Rookie PremierePRISTINE GRADED PGI 10 GEM MINTClick Image to Enlarge!This auction is for a Gem Mint PGI 10 ROOKIE CARD of this great rookie from the 2007 Upper Deck "Rookie Premiere" collection. These cards were never available in packs and could only be obtained from dealers who had the special boxed sets. Historically, this is one of the best sets of the year each year!!! Keep in mind that the Ben Roethlisberger card from the 2004 set sold for as much as $100!Be sure to look at our other auctions. We have discount card lots of every NFL rookie this year from makers like Sage, Rookie Review, Topps and many more. No one, online or off, gets you GEM MINT rookie cards at the price we do!!! Just check our eBay store for the best price online!You are bidding on the item pictured at the top left. Other items pictured are available in our other current auctions and eBay store.This card has been graded by Pristine Grading International (PGI), a leading grader of top sports cards. Grading provides buyers with the peace of mind knowing they have a card in mint condition and that the protective graded holder will keep the card safe in the mail and in your possession. *** BID NOW!!! *** Be sure and take advantage of our combined shipping discounts!
A great collectible to be put away for the long term or given as the perfect gift. Since we normally have more than one item in stock our listings use a sample image of an item in the same condition.
Got Questions? Click here for the GoGraded FAQs.

Looking to see what other great collectible cards we've got? Click here to visit our eBay Store.