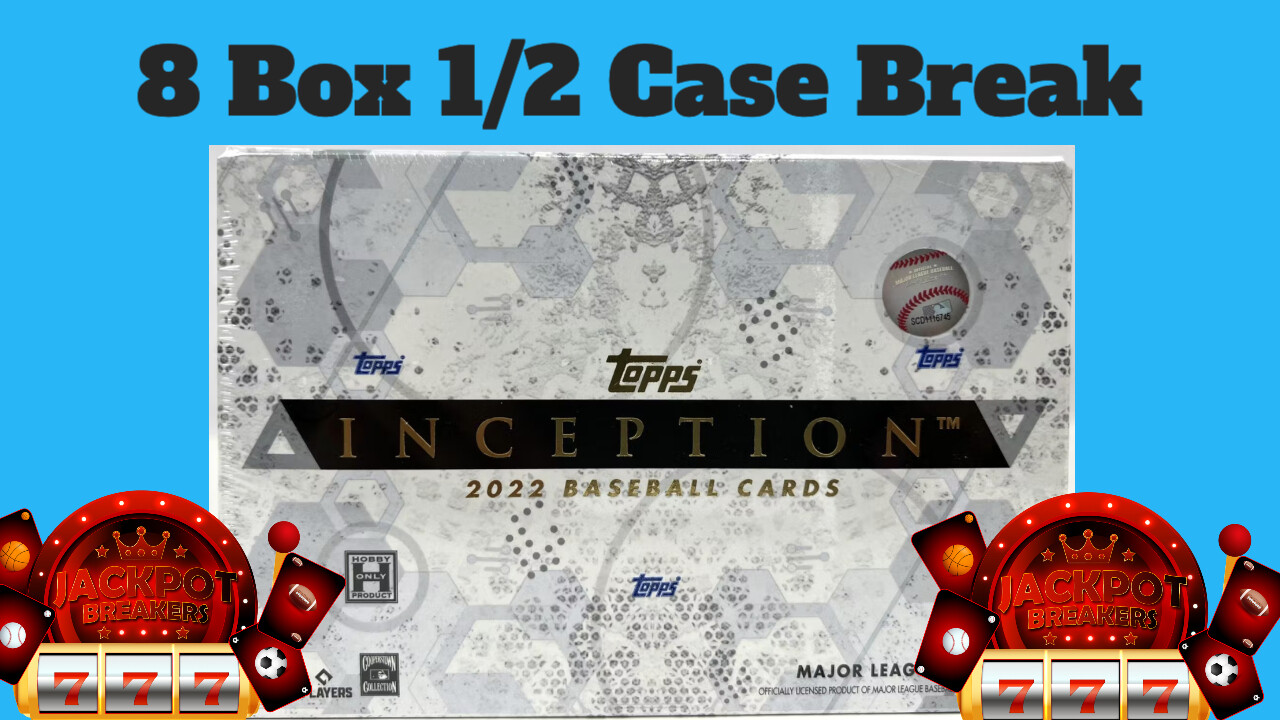 Price: 29.99 USD
Card Details:
2022 Topps Inception Baseball 8 Hobby Box PYT Box Break #2 – Half Case!!!!




This is NOT a SEALED BOX OF CARDS. This is a Box Break!
By purchasing this item you will receive one team in the break listed in the title. If you purchase 2 items, you will receive 2 teams and so on. You will also receive all cards pulled in this break solely associated with that team.
If you have any questions about this please message me before purchasing this item.
PLEASE READ THE ENTIRE DESCRIPTION BEFORE BIDDING
BY BIDDING ON THIS LISTING YOU AGREE & UNDERSTAND EVERYTHING BELOW
YOU ARE NOT BUYING A SEALED BOX OR BOXES OF CARDS BUT ALL CARDS PULLED FROM THE TEAM(S) YOU HAVE IN THE BREAK.
This live break has 30 spots, one for each MLB team. This break is for (8) EIGHT
2022 Topps Inception Baseball Hobby Boxes
.
Once the break fills, 
you will receive an eBay message for when the break will begin. There is no reason to send a message to let us know a break is full, we know and are simply in the process of scheduling the break. We will get the message out to you as soon as we can.
If you need to check how many spots are left, simply refer back to this listing. The number left is shown in the listing. Ebay may show more than 30 spots sold, this is because of cancellations. We WILL NOT sell more than the 30 spots in this break! You will receive at least 1 card from us for each spot you have in the break. Should we fail to do this, we will send you a full refund.
LIVE BREAK will take place on YouTube (JackpotBreakers). Video will be uploaded to Jackpot Breakers YOUTUBE CHANNEL in case you miss it live. Video begins processing on YouTube when the Livestream is complete. This can take hours so please be patient while the upload processes if you miss the live break. Thank you. 
YouTube: https://www.youtube.com/c/JackpotBreakers
Majority Rules – Any Multi-team Cards will be shuffled with the person ending up on top taking the card, UNLESS one person owns more than 50% of the teams on the card. Then that person will receive the card.
ALL CARDS SHIP!  $3.99 SHIPPING! Take More Spots and SAVE! USPS First Class Mail.
IF YOU NEED INSURANCE, REACH OUT AND WE WILL INVOICE YOU.
Cards will ship 5-7 business days from completion of break. Thank you for your patience. Handling time is set to 30 days to allow time for break to fill, so please ignore the estimated time of delivery as cards will ship 5-7 days from completion of break.
If rules are not clear, please feel free to send a message. We will do everything we can to help. Thank you!
Now let's hit some JACKPOTS!!!
See our store for your sports card needs!