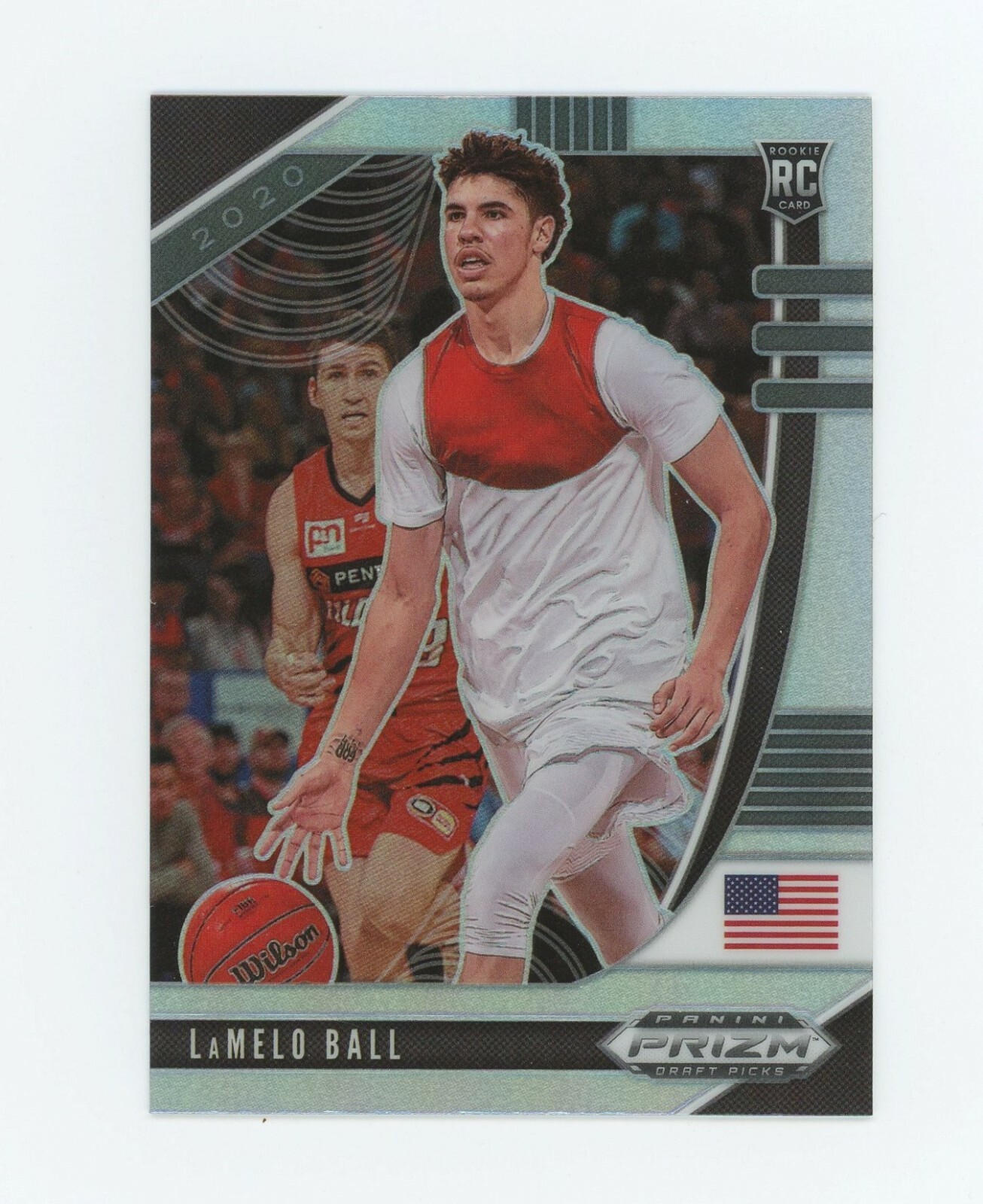 Price: 25.00 USD
Card Details:
2020-21 Panini Prizm Draft Picks Silver #43 LaMelo Ball ROOKIE RC HORNETS




ATTENTION: You get the card(s) listed in the title and pictured in the
scan. If these do not match notify us so we can end the listing. If we get
the parallel name wrong the picture of the card is always the card that is
being sold. Every card is listed as Near Mint, but any major blemishes will be
disclosed. If we happen to miss something and you are not happy with the card.
We are more than happy to refund you for that card. Just email us.
SHIPPING POLICY: 
1.   
We
are happy to combine shipping but cannot combine invoices or adjust shipping
costs if you have ALREADY paid so if you want items combined, please wait to pay.
2.   
All
orders will ship out no later than next business day. But most will ship out
same day, if paid before 4pm Mountain Time.
3.   
IF
you pay for $1.00 Shipping it is mailed out in PWE, using Ebay Standard
tracking. Sometimes Tracking DOES NOT UPDATE and only says "label created"
Please be assured that it was mailed out within 1 Business Day! If for whatever
reason you still do not get it within the estimated time. I will HAPPILY refund
you and when the card arrives just keep it!

ITEM CONDITION: All cards graded by professional third-party
organizations conditions are determined by the graders not by us. If you
are bidding on this card, it is possible, but not likely that they will grade
gem mint please bid accordingly.  However, for modern cards 2010 and newer
please expect all cards to be in Near Mint condition (7 Grade PSA/BGS/SGC) or
better with most being better.  Major issues like dents, nail indentations
or bent corners will be disclosed.  If you are buying these cards and
returning because they will not gem but do meet the requirements above, you
will be blocked from future business.  If you want a guaranteed gem,
please buy a card graded gem mint. 
RETURN POLICY: We allow returns with full refunds but
do not offer partial refunds.  Returns are available to our customers if
they did not get the item they are intended to receive. They are not for them
to buy and decide they do not want them. The sports card market is dynamic and
in a week a card could lose its value, or it could double in value. 
Therefore, if you would not return an item because it doubled in value buyer's
remorse in unacceptable the other way.
1.   
Items
returned because of damage, missing parts, wrong item sent, will be given full refunds.
2.   
Items
returned because of buyer's remorse, changed my mind, found better price, just did
not like it will by charged a minimum of 20% restocking fee.
3.   
Customers
taking advantage of eBay's return.
SALES TAX: Sales tax is charged in accordance w/all
of eBay's policies and the state where the item is being sent.