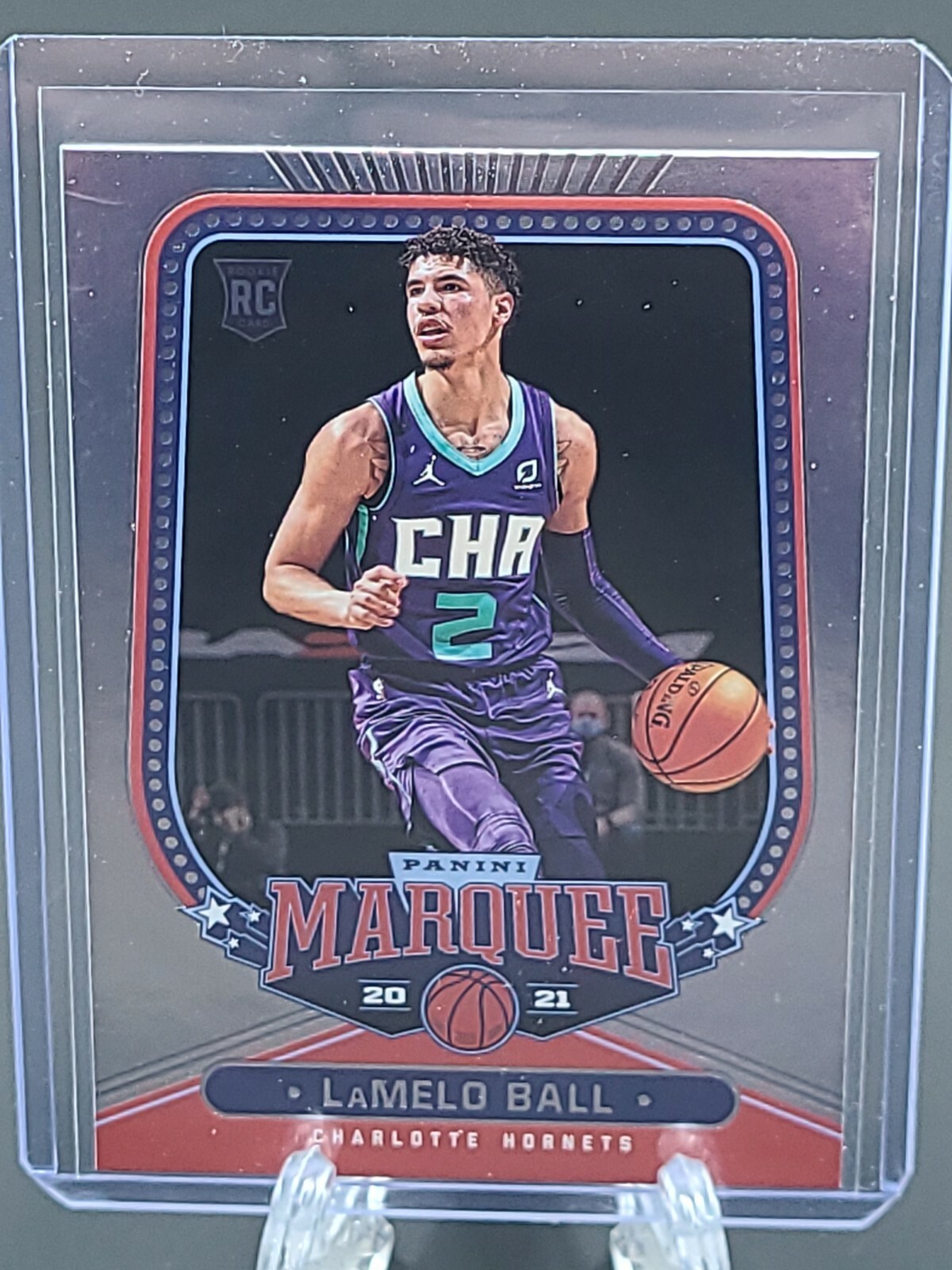 Price: 5.54 USD
Card Details:
2020-21 Lamelo Ball Rookie Rc Panini Chronicles Marquee Lstg 4




EAPCARDS SEARCH STORE FOR BETTER DEALS ON MULTIPLE OFFERS.  SINGLE OFFERS FOR 1 DOLLAR WILL NOT BE ENTERTAINED BUT BUNDLE WITH SEVERAL CARDS ALLOWS MORE FLEXIBILITY WITH PRICING DUE TO SHIPPING CONSIDERATIONS.  IN OTHER WORDS OFFER ON MORE AND SAVE!! If buying multiple items please do not pay individually.  Wait until final invoice is sent to help keep yours and my costs down. Shipping details: low cost free ship items(under 20 dollars) will ship in PWE with toploader(in most circumstances) and eBay standard envelope service which includes tracking. Larger combined orders may not include individual top loaders due to size and weight considerations. Cards will be shipped in the most efficient way for cost and condition..  if you choose to have a free ship item shipped tracking with bubble mailer,, please email me prior to shipping and I will adjust cost.  This is typically now 4.49 for this service.  Combined shipping for items with shipping costs as listed in description is 50 cents for additional items for smaller lots(less than 5 cards) Combinations of free ship items and items with shipping cost – additional item fee waived for free ship items but those with cost still incur 50 cent additional per item.  For larger lots of free ship items, there is no cost for shipping but will still be shipped standard. For larger lots of items that have shipping costs, a reduction in fee based upon supplies and weight will be determined to keep cost down.  You can also ask to downgrade to free shipping with PWE. In these cases, there will be a 1 dollar charge and I will waive any responsibility for item condition upon arrival.  PATCH CARDS AND MULTIPLE LOW COST SINGLES MAY BE SHIPPED ECONOMY NON MACHINEABLE WHICH TAKES TIME DEPENDING ON USPS.  THIS CAN BE SIGNIFICANT AND EBAY ESTIMATES ARE NOT ACCURATE.   PLEASE LOOK FOR PWES IN MAIL AND DO NOT DISCARD AS JUNK MAIL WITH RETURN FROM EAPCARDS.  My goal is to sell to you and I am willing to work with buyers to keep costs down.  However please keep in mind that shipping costs need to be fair to me as well in order to still make a profit on sale.  Additional details— cards being sold will not necessarily come in a magnetic holder or other heavier supply due to package restrictions and shipping costs(weight) that may be shown in a photo. So don't just bid on an item that may be 99 cents to get the magnetic holder because the holder will be swapped to a regular top loader. My goal is to keep the cards safe and to keep the costs as low as possible.  Also if you would like to bypass top loaders and opt for team bags on larger lots I can do that as well to drastically reduce cost.  Please bid with confidence!  Items sold over 100 dollars automatically get a magnetic holder and higher prices may require signature on delivery.   Of note 1 dollar offers for single card orders will always be rejected.  This cost though attractive to the buyer actually loses money for the seller due to eBay, and shipping fees.  If you put offers on many items I can go lower on cost because the shipping costs become combined and offset.  If you win multiple items please wait for final invoice and pay all together not individually.  I genuinely appreciate all interest in my items. Thank you for looking.
Items sent out.
Sunday through Thursday- next day
Friday- following Monday at the latest, usually sooner.