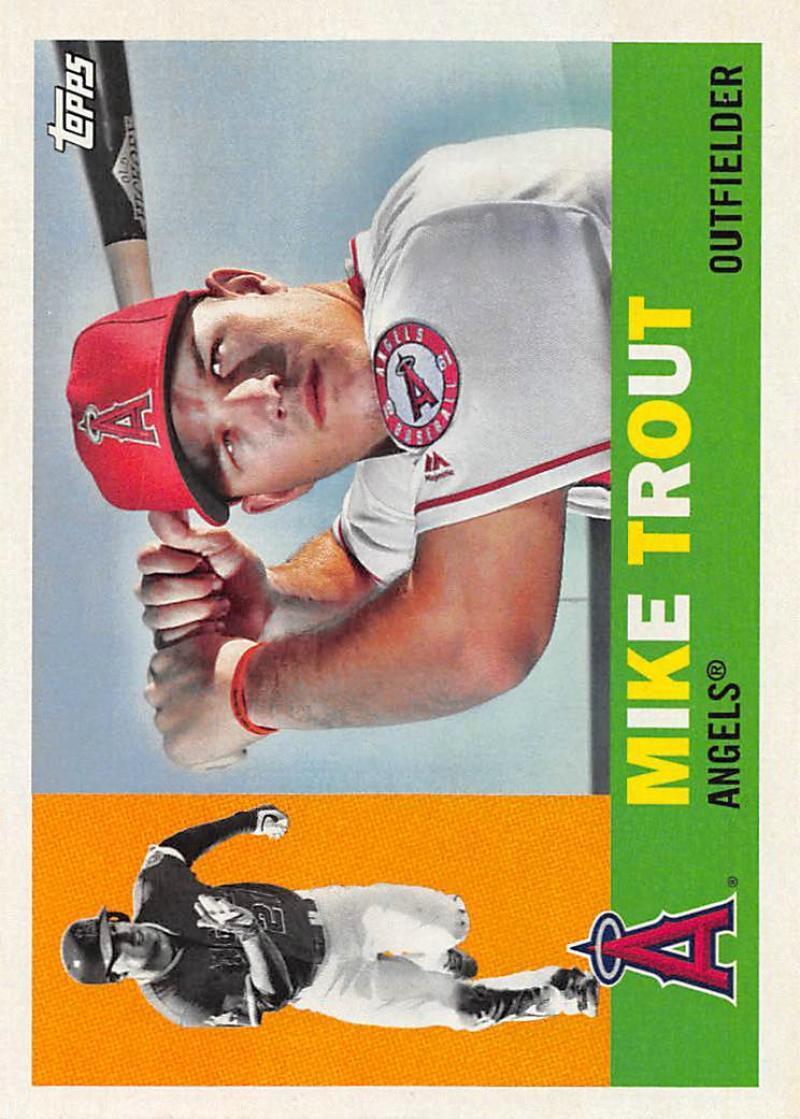 Price: 9.99 USD
Card Details:
2017 Topps Archives Baseball Cards Pick From List 1-250




2017 Topps Archives Baseball Cards Pick From List 1-250
Thank you for clicking on my auction.  Sometimes the listing software I use imports the complete checklist into the description.  I only have the cards available from the drop down menu.  Thank you for understanding.
#1 Mike Trout Los Angeles Angels
#2 Buster Posey San Francisco Giants
#3 Earl Weaver Baltimore Orioles
#4 Goose Gossage New York Yankees
#5 Tony Prez Cincinnati Reds
#6 Ryan Braun Milwaukee Brewers
#7 Billy Hamilton Cincinnati Reds
#8 DJ LeMahieu Colorado Rockies
#9 Mark Trumbo Baltimore Orioles
#10 Rio Ruiz RC Rookie Atlanta Braves
#11 Nolan Ryan New York Mets
#12 Andres Galarraga Montral Expos
#13 Jorge Alfaro RC Rookie Philadelphia Phillies
#14 Marcell Ozuna Miami Marlins
#15 Brandon Belt San Francisco Giants
#16 Jay Bruce New York Mets
#17 Melky Cabrera Chicago White Sox
#18 Sean Manaea Oakland Athletics
#19 Russell Martin Toronto Blue Jays
#20 Jonathan Lucroy Texas Rangers
#21 Jose Ramirez Cleveland Indians
#22 Raimel Tapia RC Rookie Colorado Rockies
#23 Honus Wagner Pittsburgh Pirates
#24 Willie McCovey San Francisco Giants
#25 David Dahl RC Rookie Colorado Rockies
#26 Yoenis Cespedes New York Mets
#27 Jonathan Schoop Baltimore Orioles
#28 Evan Longoria Tampa Bay Rays
#29 Josh Donaldson Toronto Blue Jays
#30 Khris Davis Oakland Athletics
#31 David Price Boston Red Sox
#32 Juan Gonzalez Texas Rangers
#33 Miguel Sano Minnesota Twins
#34 Carl Yastrzemski Boston Red Sox
#35 Brooks Robinson Baltimore Orioles
#36 Yu Darvish Texas Rangers
#37 Jon Gray Colorado Rockies
#38 Luis Aparicio Chicago White Sox
#39 Rob Segedin RC Rookie Los Angeles Dodgers
#40 Joc Pederson Los Angeles Dodgers
#41 Justin Bour Miami Marlins
#42 David Cone New York Mets
#43 Duke Snider Los Angeles Dodgers
#44 Julio Teheran Atlanta Braves
#45 Javier Baez Chicago Cubs
#46 Aaron Sanchez Toronto Blue Jays
#47 Jeff Hoffman RC Rookie Colorado Rockies
#48 Jim Palmer Baltimore Orioles
#49 Brian Dozier Minnesota Twins
#50 Hank Aaron Atlanta Braves
#51 Robert Gsellman RC Rookie New York Mets
#52 Bo Jackson Kansas City Royals
#53 Freddie Freeman Atlanta Braves
#54 Chris Archer Tampa Bay Rays
#55 Fernando Valenzuela Los Angeles Dodgers
#56 Eric Hosmer Kansas City Royals
#57 Albert Pujols Los Angeles Angels
#58 Odubel Herrera Philadelphia Phillies
#59 Rollie Fingers Oakland Athletics
#60 Catfish Hunter Oakland Athletics
#61 Gary Carter New York Mets
#62 Aaron Judge RC Rookie New York Yankees
#63 Ryon Healy RC Rookie Oakland Athletics
#64 Noah Syndergaard New York Mets
#65 Stephen Strasburg Washington Nationals
#66 Adrian Beltre Texas Rangers
#67 Edwin Diaz Seattle Mariners
#68 Lorenzo Cain Kansas City Royals
#69 Jason Heyward Chicago Cubs
#70 Ichiro Miami Marlins
#71 German Marquez RC Rookie Colorado Rockies
#72 Edgar Martinez Seattle Mariners
#73 Bobby Doerr Boston Red Sox
#74 Corey Kluber Cleveland Indians
#75 Ty Cobb Detroit Tigers
#76 Curtis Granderson New York Mets
#77 Nomar Mazara Texas Rangers
#78 Nolan Arenado Colorado Rockies
#79 Brandon Crawford San Francisco Giants
#80 Max Scherzer Washington Nationals
#81 Tyler Glasnow RC Rookie Pittsburgh Pirates
#82 Mike Piazza Los Angeles Dodgers
#83 Joe Morgan Cincinnati Reds
#84 Carson Fulmer Chicago White Sox
#85 Jon Lester Chicago Cubs
#86 Drew Smyly Seattle Mariners
#87 Dellin Betances New York Yankees
#88 Salvador Perez Kansas City Royals
#89 Adam Duvall Cincinnati Reds
#90 Kenley Jansen Los Angeles Dodgers
#91 Adam Jones Baltimore Orioles
#92 Masahiro Tanaka New York Yankees
#93 Matt Kemp Atlanta Braves
#94 Manny Margot RC Rookie San Diego Padres
#95 Don Mattingly New York Yankees
#96 Bruce Sutter Chicago Cubs
#97 Johnny Damon Boston Red Sox
#98 Jake Lamb Arizona Diamondbacks
#99 Lou Gehrig New York Yankees
#100 Corey Seager Los Angeles Dodgers
#101 Dansby Swanson Atlanta Bravest
#102 Carlos Correa Houston Astros
#103 Alex Reyes RC Rookie St. Louis Cardinals
#104 Bert Blyleven Cleveland Indians
#105 Jake Odorizzi Tampa Bay Rays
#106 Fergie Jenkins Chicago Cubs
#107 Carlos Gonzalez Colorado Rockies
#108 Steven Matz New York Mets
#109 Gavin Cecchini RC Rookie New York Mets
#110 Billy Williams Chicago Cubs
#111 Danny Salazar Cleveland Indians
#112 Francisco Lindor Cleveland Indians
#113 Elvis Andrus Texas Rangers
#114 Jose De Leon RC Rookie Tampa Bay Rays
#115 Andy Pettitte Houston Astros
#116 Curt Schilling Philadelphia Phillies
#117 Dee Gordon Miami Marlins
#118 Drew Pomeranz Boston Red Sox
#119 Yulieski Gurriel RC Rookie Houston Astros
#120 Dexter Fowler St. Louis Cardinals
#121 Marcus Stroman Toronto Blue Jays
#122 Willie Stargell Pittsburgh Pirates
#123 Gary Sanchez New York Yankees
#124 Randal Grichuk St. Louis Cardinals
#125 Jackie Robinson Brooklyn Dodgers
#126 Jacoby Ellsbury New York Yankees
#127 Troy Tulowitzki Toronto Blue Jays
#128 Roberto Alomar Cleveland Indians
#129 Yasiel Puig Los Angeles Dodgers
#130 Robinson Cano Seattle Mariners
#131 Jackie Bradley Jr. Boston Red Sox
#132 Andrew Benintendi Boston Red Soxt
#133 Jake Thompson RC Rookie Philadelphia Phillies
#134 Whitey Ford New York Yankees
#135 Sonny Gray Oakland Athletics
#136 Rob Manfred
#137 Kyle Hendricks Chicago Cubs
#138 Clayton Kershaw Los Angeles Dodgers
#139 Phil Rizzuto New York Yankees
#140 Lou Brock St. Louis Cardinals
#141 Dallas Keuchel Houston Astros
#142 Carlos Asuaje RC Rookie San Diego Padres
#143 Willson Contreras Chicago Cubs
#144 Ken Giles Houston Astros
#145 Hisashi Iwakuma Seattle Mariners
#146 Michael Fulmer Detroit Tigers
#147 Jose Bautista Toronto Blue Jays
#148 Harmon Killebrew Washington Senators
#149 J.D. Martinez Detroit Tigers
#150 Jose Quintana Chicago White Sox
#151 Jharel Cotton RC Rookie Oakland Athletics
#152 Victor Martinez Detroit Tigers
#153 Frank Thomas Oakland Athletics
#154 Roman Quinn RC Rookie Philadelphia Phillies
#155 Cole Hamels Texas Rangers
#156 Maikel Franco Philadelphia Phillies
#157 Aledmys Diaz St. Louis Cardinals
#158 Hunter Renfroe RC Rookie San Diego Padres
#159 Pedro Martinez Boston Red Sox
#160 Roy Oswalt Houston Astros
#161 Anthony Rizzo Chicago Cubs
#162 Roger Maris St. Louis Cardinals
#163 John Smoltz Atlanta Braves
#164 Larry Doby Cleveland Indians
#165 Wade Davis Chicago Cubs
#166 Zach Britton Baltimore Orioles
#167 Dennis Eckersley Oakland Athletics
#168 Orlando Arcia RC Rookie Milwaukee Brewers
#169 Starlin Castro New York Yankees
#170 Nelson Cruz Seattle Mariners
#171 Kevin Pillar Toronto Blue Jays
#172 Rich Hill Los Angeles Dodgers
#173 Carlos Martinez St. Louis Cardinals
#174 Jonathan Villar Milwaukee Brewers
#175 Sandy Koufax Los Angeles Dodgers
#176 Stephen Piscotty St. Louis Cardinals
#177 Nomar Garciaparra Boston Red Sox
#178 Edwin Encarnacion Cleveland Indians
#179 Early Wynn Cleveland Indians
#180 Danny Duffy Kansas City Royals
#181 Eddie Murray Baltimore Orioles
#182 Justin Turner Los Angeles Dodgers
#183 Anthony Rendon Washington Nationals
#184 Teoscar Hernandez RC Rookie Houston Astros
#185 Ivan Rodriguez Texas Rangers
#186 Monte Irvin New York Giants
#187 Jason Kipnis Cleveland Indians
#188 Ozzie Smith San Diego Padres
#189 Jeurys Familia New York Mets
#190 Zack Greinke Arizona Diamondbacks
#191 Sparky Anderson Cincinnati Reds
#192 Ryne Sandberg Chicago Cubs
#193 Tony Clark
#194 Xander Bogaerts Boston Red Sox
#195 Craig Kimbrel Boston Red Sox
#196 Chris Davis Baltimore Orioles
#197 Jimmie Foxx Philadelphia Athletics
#198 Ben Zobrist Chicago Cubs
#199 Carlos Santana Cleveland Indians
#200 Kris Bryant Chicago Cubs
#201 Roberto Clemente Pittsburgh Pirates
#202 Felix Hernandez Seattle Mariners
#203 Yasmani Grandal Los Angeles Dodgers
#204 Warren Spahn Milwaukee Braves
#205 Trea Turner Washington Nationals
#206 John Lackey Chicago Cubs
#207 Juan Marichal San Francisco Giants
#208 Todd Frazier Chicago White Sox
#209 George Springer Houston Astros
#210 Mookie Betts Boston Red Sox
#211 Starling Marte Pittsburgh Pirates
#212 Jacob deGrom New York Mets
#213 Paul Konerko Chicago White Sox
#214 Seung-Hwan Oh St. Louis Cardinals
#215 Tyler Austin RC Rookie New York Yankees
#216 Christian Yelich Miami Marlins
#217 Kole Calhoun Los Angeles Angels
#218 Aaron Boone New York Yankees
#219 Jim Bunning Detroit Tigers
#220 Kenta Maeda Los Angeles Dodgers
#221 JaCoby Jones RC Rookie Detroit Tigers
#222 Matt Carpenter St. Louis Cardinals
#223 Jose Abreu Chicago White Sox
#224 Bobby Abreu Philadelphia Phillies
#225 Babe Ruth New York Yankees
#226 Hanley Ramirez Boston Red Sox
#227 Manny Machado Baltimore Orioles
#228 Bob Lemon Cleveland Indians
#229 Gerrit Cole Pittsburgh Pirates
#230 Omar Vizquel Seattle Mariners
#231 Mark McGwire St. Louis Cardinals
#232 Lou Boudreau Cleveland Indians
#233 A.J. Pollock Arizona Diamondbacks
#234 Ian Kinsler Detroit Tigers
#235 Chris Sale Boston Red Sox
#236 Braden Shipley RC Rookie Arizona Diamondbacks
#237 Joe Musgrove Houston Astrost
#238 Gregory Polanco Pittsburgh Pirates
#239 Kelvin Herrera Kansas City Royals
#240 Rick Porcello Boston Red Sox
#241 Justin Verlander Detroit Tigers
#242 Matt Olson RC Rookie Oakland Athletics
#243 David Ortiz Boston Red Sox
#244 Trevor Story Colorado Rockies
#245 Johnny Cueto San Francisco Giants
#246 Wil Myers San Diego Padres
#247 Matt Harvey New York Mets
#248 Andre Dawson Chicago Cubs
#249 Tom Glavine Atlanta Braves
#250 Bryce Harper Washington Nationals
Shipping is specified up above. Two options for shipping available for domestic and international customers. Each additional card to the US is .25, International customers each additional card will be .50. Please use shopping cart to pay one shipping price and receive all discounts possible.
This listing created with GLETech Multiple Selling Channel tools.