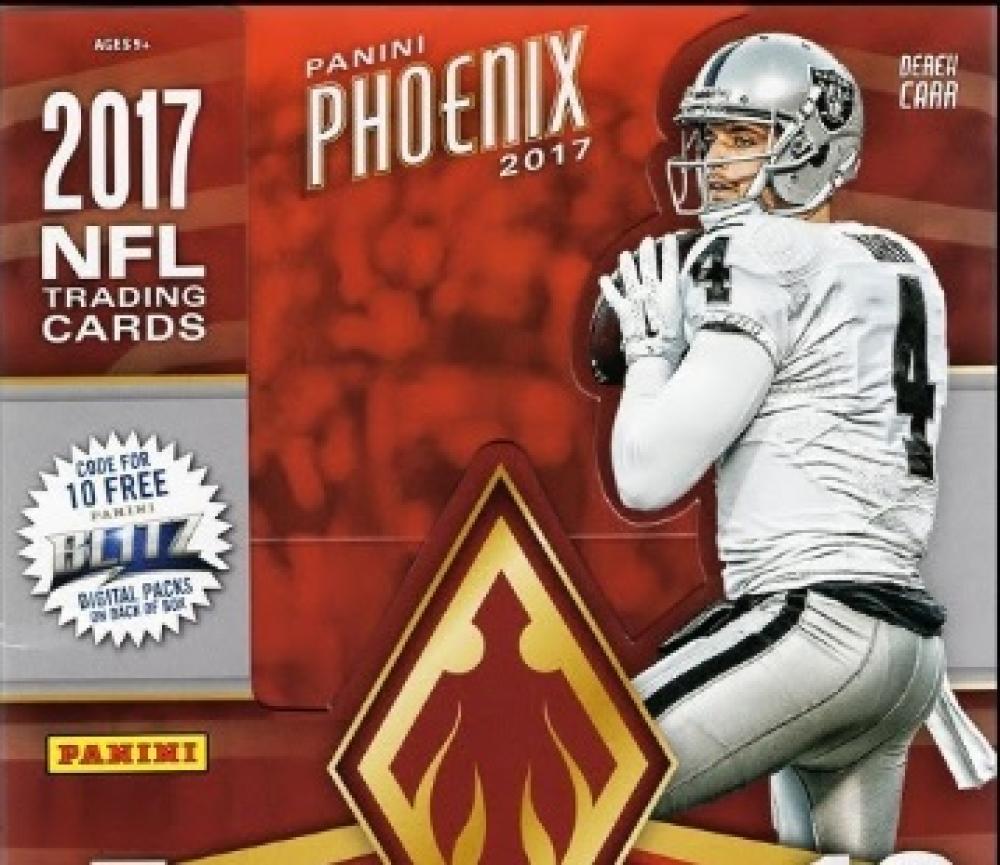 Price: 6.00 USD
Card Details:
2017 Panini Phoenix Yellow Football Parallel Cards Pick From List /75




2017 Panini Phoenix Yellow Football Parallel Cards Pick From List /75
#1 Joe Flacco Baltimore Ravens
#2 Terrell Suggs Baltimore Ravens
#3 Andy Dalton Cincinnati Bengals
#4 A.J. Green Cincinnati Bengals
#5 J.J. Watt Houston Texans
#6 DeAndre Hopkins Houston Texans
#7 Isaiah Crowell Cleveland Browns
#8 Corey Coleman Cleveland Browns
#9 Le'Veon Bell Pittsburgh Steelers
#10 Ben Roethlisberger Pittsburgh Steelers
#11 Antonio Brown Pittsburgh Steelers
#12 Andrew Luck Indianapolis Colts
#13 T.Y. Hilton Indianapolis Colts
#14 Blake Bortles Jacksonville Jaguars
#15 Allen Robinson Jacksonville Jaguars
#16 Marcus Mariota Tennessee Titans
#17 DeMarco Murray Tennessee Titans
#18 Tyrod Taylor Buffalo Bills
#19 LeSean McCoy Buffalo Bills
#20 Ryan Tannehill Miami Dolphins
#21 Jay Ajayi Miami Dolphins
#22 Tom Brady New England Patriots
#23 Rob Gronkowski New England Patriots
#24 Matt Forte New York Jets
#25 Quincy Enunwa New York Jets
#26 Von Miller Denver Broncos
#27 Demaryius Thomas Denver Broncos
#28 Travis Kelce Kansas City Chiefs
#29 Tyreek Hill Kansas City Chiefs
#30 Philip Rivers Los Angeles Chargers
#31 Joey Bosa Los Angeles Chargers
#32 Derek Carr Oakland Raiders
#33 Amari Cooper Oakland Raiders
#34 Mike Glennon Chicago Bears
#35 Jordan Howard Chicago Bears
#36 Matthew Stafford Detroit Lions
#37 Marvin Jones Jr. Detroit Lions
#38 Aaron Rodgers Green Bay Packers
#39 Jordy Nelson Green Bay Packers
#40 Sam Bradford Minnesota Vikings
#41 Stefon Diggs Minnesota Vikings
#42 Matt Ryan Atlanta Falcons
#43 Julio Jones Atlanta Falcons
#44 Cam Newton Carolina Panthers
#45 Luke Kuechly Carolina Panthers
#46 Drew Brees New Orleans Saints
#47 Adrian Peterson New Orleans Saints
#48 Mike Evans Tampa Bay Buccaneers
#49 Jameis Winston Tampa Bay Buccaneers
#50 Dak Prescott Dallas Cowboys
#51 Ezekiel Elliott Dallas Cowboys
#52 Eli Manning New York Giants
#53 Odell Beckham Jr. New York Giants
#54 Carson Wentz Philadelphia Eagles
#55 Alshon Jeffery Philadelphia Eagles
#56 Josh Norman Washington Redskins
#57 Kirk Cousins Washington Redskins
#58 Larry Fitzgerald Arizona Cardinals
#59 Carson Palmer Arizona Cardinals
#60 Todd Gurley II Los Angeles Rams
#61 Aaron Donald Los Angeles Rams
#62 Carlos Hyde San Francisco 49ers
#63 Jeremy Kerley San Francisco 49ers
#64 Russell Wilson Seattle Seahawks
#65 Doug Baldwin Seattle Seahawks
#66 Jim Zorn Seattle Seahawks
#67 Steve Young San Francisco 49ers
#68 Kurt Warner St. Louis Rams
#69 Emmitt Smith Arizona Cardinals
#70 John Riggins Washington Redskins
#71 Randall Cunningham Philadelphia Eagles
#72 Michael Strahan New York Giants
#73 Roger Staubach Dallas Cowboys
#74 Warren Sapp Tampa Bay Buccaneers
#75 Morten Andersen New Orleans Saints
#76 Kevin Greene Carolina Panthers
#77 Michael Vick Philadelphia Eagles
#78 Fran Tarkenton Minnesota Vikings
#79 Brett Favre Green Bay Packers
#80 Calvin Johnson Detroit Lions
#81 Brian Urlacher Chicago Bears
#82 Ray Lewis Baltimore Ravens
#83 Ken Anderson Cincinnati Bengals
#84 Ozzie Newsome Cleveland Browns
#85 Franco Harris Pittsburgh Steelers
#86 Warren Moon Houston Oilers
#87 Peyton Manning Indianapolis Colts
#88 Mark Brunell Jacksonville Jaguars
#89 Jason Taylor Miami Dolphins
#90 Jim Kelly Buffalo Bills
#91 Dan Marino Miami Dolphins
#92 Curtis Martin New England Patriots
#93 Lawrence Taylor New York Giants
#94 Terrell Davis Denver Broncos
#95 Ty Law New England Patriots
#96 LaDainian Tomlinson San Diego Chargers
#97 Bo Jackson Los Angeles Raiders
#98 Troy Aikman Dallas Cowboys
#99 Tim Brown Oakland Raiders
#100 Tony Dorsett Dallas Cowboys
#101 Deshaun Watson Houston Texans
#102 Mitchell Trubisky Chicago Bears
#103 DeShone Kizer Cleveland Browns
#104 Patrick Mahomes II Kansas City Chiefs
#105 Nathan Peterman Buffalo Bills
#106 Davis Webb New York Giants
#107 C.J. Beathard San Francisco 49ers
#108 R. Joshua Dobbs Pittsburgh Steelers
#109 Leonard Fournette Jacksonville Jaguars
#110 Dalvin Cook Minnesota Vikings
#111 Christian McCaffrey Carolina Panthers
#112 D'Onta Foreman Houston Texans
#113 Alvin Kamara New Orleans Saints
#114 Samaje Perine Washington Redskins
#115 Wayne Gallman New York Giants
#116 Kareem Hunt Kansas City Chiefs
#117 Kenny Golladay Detroit Lions
#118 James Conner Pittsburgh Steelers
#119 Joe Mixon Cincinnati Bengals
#120 Evan Engram New York Giants
#121 O.J. Howard Tampa Bay Buccaneers
#122 Mike Williams Los Angeles Chargers
#123 Josh Reynolds Los Angeles Rams
#124 John Ross III Cincinnati Bengals
#125 JuJu Smith-Schuster Pittsburgh Steelers
#126 Zay Jones Buffalo Bills
#127 Corey Davis Tennessee Titans
#128 Curtis Samuel Carolina Panthers
#129 Dede Westbrook Jacksonville Jaguars
#130 Carlos Henderson Denver Broncos
#131 Chris Godwin Tampa Bay Buccaneers
#132 Mack Hollins Philadelphia Eagles
#133 Cooper Kupp Los Angeles Rams
#134 Amara Darboh Seattle Seahawks
#135 Marlon Mack Indianapolis Colts
#136 ArDarius Stewart New York Jets
#137 Joe Williams San Francisco 49ers
#138 Jamaal Williams Green Bay Packers
#139 Taywan Taylor Tennessee Titans
#140 Jeremy McNichols Tampa Bay Buccaneers
#141 Myles Garrett Cleveland Browns
#142 Solomon Thomas San Francisco 49ers
#143 Jamal Adams New York Jets
#144 Marshon Lattimore New Orleans Saints
#145 Haason Reddick Arizona Cardinals
#146 Derek Barnett Philadelphia Eagles
#147 Malik Hooker Indianapolis Colts
#148 Marlon Humphrey Baltimore Ravens
#149 Jonathan Allen Washington Redskins
#150 Adoree' Jackson Tennessee Titans
#151 Jarrad Davis Detroit Lions
#152 Charles Harris Miami Dolphins
#153 Gareon Conley Oakland Raiders
#154 Jabrill Peppers Cleveland Browns
#155 Taco Charlton Dallas Cowboys
#156 David Njoku Cleveland Browns
#157 Reuben Foster San Francisco 49ers
#158 Kevin King Green Bay Packers
#159 Malik McDowell Seattle Seahawks
#160 Budda Baker Arizona Cardinals
#161 Marcus Maye New York Jets
#162 Marcus Williams New Orleans Saints
#163 Sidney Jones Philadelphia Eagles
#164 Gerald Everett Los Angeles Rams
#165 Adam Shaheen Chicago Bears
#166 Quincy Wilson Indianapolis Colts
#167 Tyus Bowser Baltimore Ravens
#168 Ryan Anderson Washington Redskins
#169 DeMarcus Walker Denver Broncos
#170 Teez Tabor Detroit Lions
#171 Obi Melifonwu Oakland Raiders
#172 Zach Cunningham Houston Texans
#173 Josh Jones Green Bay Packers
#174 Ahkello Witherspoon San Francisco 49ers
#175 Dawuane Smoot Jacksonville Jaguars
#176 Jordan Willis Cincinnati Bengals
#177 Chris Wormley Baltimore Ravens
#178 Duke Riley Atlanta Falcons
#179 Alex Anzalone New Orleans Saints
#180 Daeshon Hall Carolina Panthers
#181 Tim Williams Baltimore Ravens
#182 Chad Williams Arizona Cardinals
#183 Fabian Moreau Washington Redskins
#184 Derek Rivers New England Patriots
#185 Shaquill Griffin Seattle Seahawks
#186 John Johnson Los Angeles Rams
#187 Jourdan Lewis Dallas Cowboys
#188 Montravius Adams Green Bay Packers
#189 Cameron Sutton Pittsburgh Steelers
#190 Delano Hill Seattle Seahawks
#191 Michael Roberts Detroit Lions
#192 Rasul Douglas Philadelphia Eagles
#193 Jonnu Smith Tennessee Titans
#194 Brendan Langley Denver Broncos
#195 George Kittle San Francisco 49ers
#196 Trey Hendrickson New Orleans Saints
#197 Kendell Beckwith Tampa Bay Buccaneers
#198 Jehu Chesson Kansas City Chiefs
#199 Eddie Jackson Chicago Bears
#200 Ryan Switzer Dallas Cowboys
Shipping is specified up above. Two options for shipping available for domestic and international customers. Please note economy shipping is sent in a small white envelope or reinforced cardboard mailer.  Please use the eBay.com shopping cart to pay one shipping price and receive all discounts possible.  Due to the constant Postal Rate increases, I will no longer quote shipping and handling prices in my description.  Any questions please do not hesitate to ask.
All cards are in at least Nr-Mt condition unless otherwise noted in the title.  If the card photo doesn't match the description, please contact me before purchasing.  You are purchasing the card in the title only, not nessecarily the one pictured.
Thank you for clicking on my auction.  Sometimes the listing software I use imports the complete checklist into the description.  I only have the cards available from the drop down menu.  Please select carefully from the drop down list as all sets in the title are included in this listing. Thank you for understanding.
This listing created with GLETech Multiple Selling Channel tools.