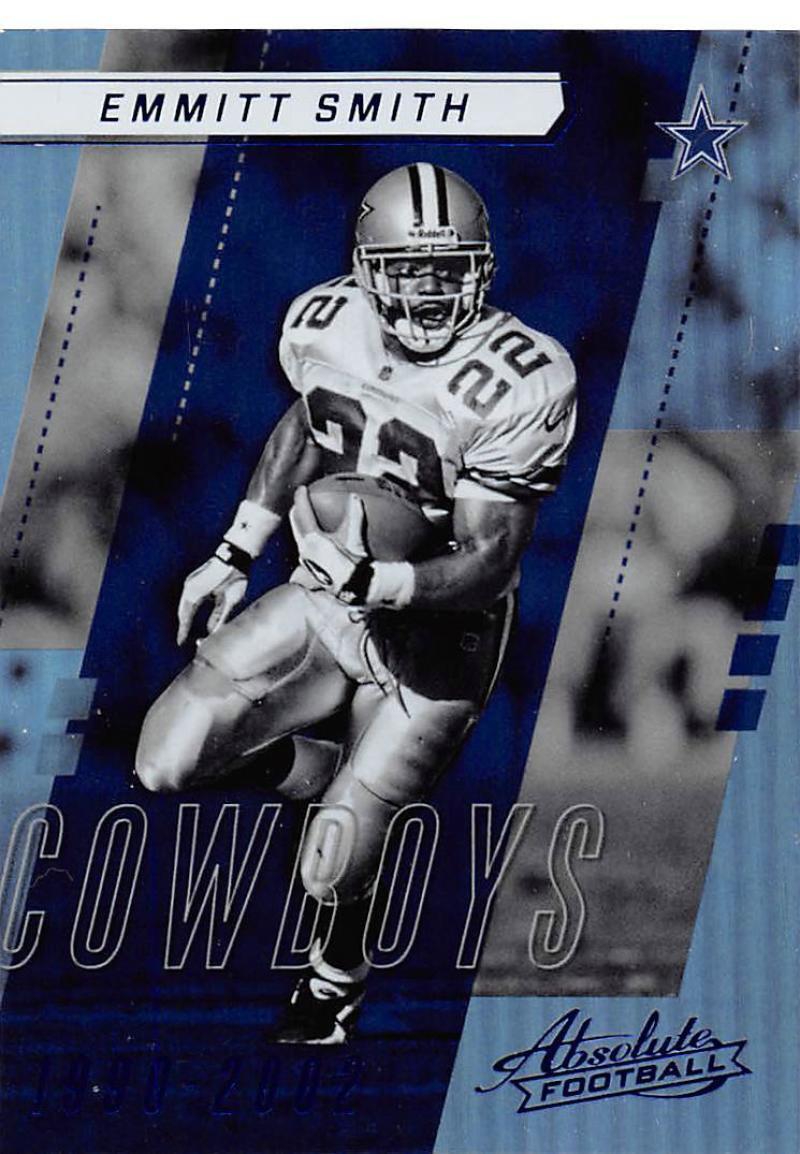 Price: 4.00 USD
Card Details:
2017 Panini Absolute Spectrum Blue (Retail only) Football Cards Pick From List




2017 Panini Absolute Spectrum Blue (Retail only) Football Cards Pick From List
#1 Julius Peppers Carolina Panthers
#2 T.Y. Hilton Indianapolis Colts
#3 Jared Goff Los Angeles Rams
#4 Alex Smith Kansas City Chiefs
#5 Dak Prescott Dallas Cowboys
#6 Tyrod Taylor Buffalo Bills
#7 Terrelle Pryor Sr. Washington Redskins
#8 Josh McCown New York Jets
#9 Clay Matthews Green Bay Packers
#10 Kenny Britt Cleveland Browns
#11 Drew Brees New Orleans Saints
#12 Blake Bortles Jacksonville Jaguars
#13 Todd Gurley II Los Angeles Rams
#14 Tyreek Hill Kansas City Chiefs
#15 Ezekiel Elliott Dallas Cowboys
#16 LeSean McCoy Buffalo Bills
#17 Jordan Reed Washington Redskins
#18 Matt Forte New York Jets
#19 Randall Cobb Green Bay Packers
#20 Isaiah Crowell Cleveland Browns
#21 Adrian Peterson New Orleans Saints
#22 Allen Hurns Jacksonville Jaguars
#23 Robert Woods Los Angeles Rams
#24 Travis Kelce Kansas City Chiefs
#25 Dez Bryant Dallas Cowboys
#26 Sammy Watkins Buffalo Bills
#27 Mike Glennon Chicago Bears
#28 Quincy Enunwa New York Jets
#29 Sam Bradford Minnesota Vikings
#30 Ben Roethlisberger Pittsburgh Steelers
#31 Michael Thomas New Orleans Saints
#32 Allen Robinson Jacksonville Jaguars
#33 Brian Hoyer San Francisco 49ers
#34 Philip Rivers Los Angeles Chargers
#35 Eli Manning New York Giants
#36 Ryan Tannehill Miami Dolphins
#37 Jordan Howard Chicago Bears
#38 Joe Flacco Baltimore Ravens
#39 Latavius Murray Minnesota Vikings
#40 Le'Veon Bell Pittsburgh Steelers
#41 Jameis Winston Tampa Bay Buccaneers
#42 Marcus Mariota Tennessee Titans
#43 Pierre Garcon San Francisco 49ers
#44 Melvin Gordon Los Angeles Chargers
#45 Brandon Marshall New York Giants
#46 Jay Ajayi Miami Dolphins
#47 Jeremy Langford Chicago Bears
#48 Mike Wallace Baltimore Ravens
#49 Stefon Diggs Minnesota Vikings
#50 Antonio Brown Pittsburgh Steelers
#51 DeSean Jackson Tampa Bay Buccaneers
#52 DeMarco Murray Tennessee Titans
#53 Carlos Hyde San Francisco 49ers
#54 Antonio Gates Los Angeles Chargers
#55 Odell Beckham Jr. New York Giants
#56 Jarvis Landry Miami Dolphins
#57 Matthew Stafford Detroit Lions
#58 Danny Woodhead Baltimore Ravens
#59 Matt Ryan Atlanta Falcons
#60 Lamar Miller Houston Texans
#61 Mike Evans Tampa Bay Buccaneers
#62 Delanie Walker Tennessee Titans
#63 Russell Wilson Seattle Seahawks
#64 Joey Bosa Los Angeles Chargers
#65 Carson Wentz Philadelphia Eagles
#66 Tom Brady New England Patriots
#67 Golden Tate III Detroit Lions
#68 Andy Dalton Cincinnati Bengals
#69 Julio Jones Atlanta Falcons
#70 DeAndre Hopkins Houston Texans
#71 Carson Palmer Arizona Cardinals
#72 Trevor Siemian Denver Broncos
#73 Eddie Lacy Seattle Seahawks
#74 Derek Carr Oakland Raiders
#75 Jordan Matthews Philadelphia Eagles
#76 Rob Gronkowski New England Patriots
#77 Marvin Jones Jr. Detroit Lions
#78 Jeremy Hill Cincinnati Bengals
#79 Devonta Freeman Atlanta Falcons
#80 J.J. Watt Houston Texans
#81 Larry Fitzgerald Arizona Cardinals
#82 Emmanuel Sanders Denver Broncos
#83 Doug Baldwin Seattle Seahawks
#84 Amari Cooper Oakland Raiders
#85 Alshon Jeffery Philadelphia Eagles
#86 Julian Edelman New England Patriots
#87 Aaron Rodgers Green Bay Packers
#88 A.J. Green Cincinnati Bengals
#89 Cam Newton Carolina Panthers
#90 Andrew Luck Indianapolis Colts
#91 David Johnson Arizona Cardinals
#92 Demaryius Thomas Denver Broncos
#93 Richard Sherman Seattle Seahawks
#94 Marshawn Lynch Oakland Raiders
#95 Kirk Cousins Washington Redskins
#96 Brandin Cooks New England Patriots
#97 Jordy Nelson Green Bay Packers
#98 Corey Coleman Cleveland Browns
#99 Greg Olsen Carolina Panthers
#100 Frank Gore Indianapolis Colts
#101 Troy Aikman Dallas Cowboys
#102 Randy Moss New England Patriots
#103 Michael Strahan New York Giants
#104 Earl Campbell Houston Oilers
#105 Joe Montana San Francisco 49ers
#106 Ed Reed Baltimore Ravens
#107 Jerry Rice San Francisco 49ers
#108 Kevin Greene Los Angeles Rams
#109 Joe Namath New York Jets
#110 Eddie George Tennessee Titans
#111 Marvin Harrison Indianapolis Colts
#112 Lawrence Taylor New York Giants
#113 Tony Dorsett Dallas Cowboys
#114 Johnny Unitas Baltimore Colts
#115 Brett Favre Green Bay Packers
#116 Bo Jackson Los Angeles Raiders
#117 Jim Thorpe Canton Bulldogs
#118 Franco Harris Pittsburgh Steelers
#119 Barry Sanders Detroit Lions
#120 Ken Stabler Oakland Raiders
#121 Marshall Faulk St. Louis Rams
#122 Tim Brown Oakland Raiders
#123 Jerome Bettis Pittsburgh Steelers
#124 Dan Fouts San Diego Chargers
#125 Emmitt Smith Dallas Cowboys
#126 Joe Greene Pittsburgh Steelers
#127 Peyton Manning Denver Broncos
#128 Terrell Davis Denver Broncos
#129 Deion Sanders Atlanta Falcons
#130 Marcus Allen Kansas City Chiefs
#131 Steve Young San Francisco 49ers
#132 Warren Moon Minnesota Vikings
#133 Calvin Johnson Detroit Lions
#134 Ray Lewis Baltimore Ravens
#135 Terry Bradshaw Pittsburgh Steelers
#136 Curtis Martin New England Patriots
#137 Michael Irvin Dallas Cowboys
#138 Eric Dickerson Indianapolis Colts
#139 Roger Staubach Dallas Cowboys
#140 Bob Griese Miami Dolphins
#141 Brian Urlacher Chicago Bears
#142 LaDainian Tomlinson San Diego Chargers
#143 Kurt Warner Arizona Cardinals
#144 Jim Kelly Buffalo Bills
#145 John Elway Denver Broncos
#146 John Stallworth Pittsburgh Steelers
#147 Dan Marino Miami Dolphins
#148 Bruce Smith Buffalo Bills
#149 John Riggins Washington Redskins
#150 Walter Payton Chicago Bears
#151 Brian Hill Atlanta Falcons
#152 Jarrad Davis Detroit Lions
#153 DeAngelo Yancey Green Bay Packers
#154 Tre'Davious White Buffalo Bills
#155 Bucky Hodges Minnesota Vikings
#156 Gerald Everett Los Angeles Rams
#157 Michael Roberts Detroit Lions
#158 Myles Garrett Cleveland Browns
#159 Chad Hansen New York Jets
#160 Derek Barnett Philadelphia Eagles
#161 Shelton Gibson Philadelphia Eagles
#162 Charles Harris Miami Dolphins
#163 Trent Taylor San Francisco 49ers
#164 Taco Charlton Dallas Cowboys
#165 Matt Breida San Francisco 49ers
#166 Adam Shaheen Chicago Bears
#167 Josh Malone Cincinnati Bengals
#168 Solomon Thomas San Francisco 49ers
#169 Jake Butt Denver Broncos
#170 Malik Hooker Indianapolis Colts
#171 Rodney Adams Minnesota Vikings
#172 Gareon Conley Oakland Raiders
#173 T.J. Logan Arizona Cardinals
#174 David Njoku Cleveland Browns
#175 Sam Rogers Los Angeles Rams
#176 Chad Williams Arizona Cardinals
#177 Donnel Pumphrey Philadelphia Eagles
#178 Jamal Adams New York Jets
#179 George Kittle San Francisco 49ers
#180 Marlon Humphrey Baltimore Ravens
#181 Isaiah McKenzie Denver Broncos
#182 Jabrill Peppers Cleveland Browns
#183 Aaron Jones Green Bay Packers
#184 T.J. Watt Pittsburgh Steelers
#185 Robert Davis Washington Redskins
#186 Jonnu Smith Tennessee Titans
#187 Ryan Switzer Dallas Cowboys
#188 Marshon Lattimore New Orleans Saints
#189 Jordan Leggett New York Jets
#190 Jonathan Allen Washington Redskins
#191 Eric Saubert Atlanta Falcons
#192 Takkarist McKinley Atlanta Falcons
#193 Elijah McGuire New York Jets
#194 Reuben Foster San Francisco 49ers
#195 Brad Kaaya Detroit Lions
#196 Tarik Cohen Chicago Bears
#197 Jehu Chesson Kansas City Chiefs
#198 Haason Reddick Arizona Cardinals
#199 Jeremy Sprinkle Washington Redskins
#200 Adoree' Jackson Tennessee Titans
Shipping is specified up above. Two options for shipping available for domestic and international customers. Please note economy shipping is sent in a small white envelope or reinforced cardboard mailer.  Please use the eBay.com shopping cart to pay one shipping price and receive all discounts possible.  Due to the constant Postal Rate increases, I will no longer quote shipping and handling prices in my description.  Any questions please do not hesitate to ask.
All cards are in at least Nr-Mt condition unless otherwise noted in the title.  If the card photo doesn't match the description, please contact me before purchasing.  You are purchasing the card in the title only, not nessecarily the one pictured.
Thank you for clicking on my auction.  Sometimes the listing software I use imports the complete checklist into the description.  I only have the cards available from the drop down menu.  Thank you for understanding.
This listing created with GLETech Multiple Selling Channel tools.

Due to the ever changing postal rates from the USPS, the quoted rates in the auction description, no longer apply.  The most up to date/accurate shipping rates can be found under the general information at the top of this listing or by adding cards to your shopping cart.  Thank you for understanding.