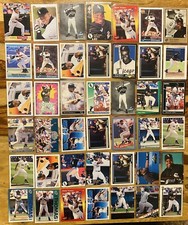 Price: 95.00 USD
Card Details:
🔥95🔥 Massive Frank Thomas Rookie Variety Lot Career Spanning Limited Dupes! RC




Some cards have wear. Mostly for pc. Not for grading gem on average. Thanks.
Shipped with tracking from the rugged wilds of Montana the day after you pay. If you've been Ebay-ing recently you've no doubt noticed massive shipping delays. We have no such issues in items "departing" from my town, and I don't doddle getting items in the mail.
Ungraded (raw) cards should not be considered Gem Mint or perfect. I'm not a professional card grader, but I will be as transparent as possible in pointing out major imperfections I see. Non modern cards have been on this earth a while. They may show light signs of wear. Please review photos VERY CLOSELY before bidding and ask questions if you have them. I buy cards on eBay and respect the finality of purchases I make. I respect the time of sellers, and ask that you show me the same respect by making sure you want what I'm selling before you buy it. THANK YOU
THERE ARE NO RETURNS ON THIS ITEM
$$$$$$$$$COMBINED SHIPPING$$$$$$
I'm happy to combine shipping on multiple card purchases for .50 each additional card up to a maximum of $5, but you MUST request an invoice before paying. I cannot refund shipping for multiple items after you've paid, no exceptions.
Among other mammals I reside with two large black good dogs. On rare occasion a hair from one of them may sneak into a shipment. Should this happen to you, congrats, and I suggest trying to clone them.
Thanks for considering my item. The fact that you are reading this, confirms your excellent taste. You are awesome!
🔥95🔥 Massive Frank Thomas Rookie Variety Lot Career Spanning Limited Dupes! RC.